Elevate 2019 Attendee Info
Watch the Elevate Countdown Webinar
Start Elevate on the right foot with our informative webinar, explaining what you can expect at the conference, how to prepare your schedule and other tips to maximize your time at Elevate.
Watch the webinar
---
The Elevate Mobile Experience
We've created a mobile experience for Elevate 2019! It has all the important information you'll need for the event and features to enhance your participation, like a personal session list.
Before You Arrive
Explore sessions, add them to your personal list, and get updates from the conference team through the conference mobile experience.
Sign in via the same email address you used to register for the conference

The site will email you a special link to complete your sign in

Visit the Elevate site to browse sessions and news posts, and to save interesting sessions to your custom schedule

Save interesting sessions to your custom schedule by selecting RSVP at the bottom of each session screen
In Baltimore
When you arrive at the conference, get a schedule-focused experience through the Corq mobile app. You should also save your personal Event Pass to your mobile device. When you attend a conference session, you'll be asked to show your Event Pass.
Sign in with the email address you used to register for the conference

When prompted to select a campus, search for Elevate to access conference content

View your custom saved schedule or add new sessions

Tap the < icon to access and download your event pass, which gains you entry to sessions during Elevate
For assistance using the mobile experience for Elevate, please contact our support team at 716-270-0000 or send an email to events@campuslabs.com
---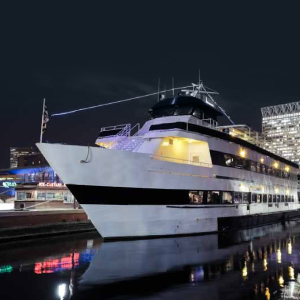 Get Excited for a Dinner Cruise on the Inner Harbor
This is a casual evening event where conference attendees get to relax and enjoy an exclusive and private event on us. This year we are embarking on a dinner cruise through the Baltimore Inner Harbor with dancing and cocktails for another great networking opportunity. Please note the following details if you plan on attending:
The Inner Harbor cruise is booked for Monday, July 15 and we board at 6:15pm from the cruise dock.
Departure time is 6:45pm and return time is 9:30pm

A full dinner buffet will be provided, with options for vegetarians and those with gluten sensitivities

There is a full-service bar on board that accepts cash and major credit cards—Campus Labs is providing two complimentary drink tickets

The ship is equipped with restrooms for your convenience

You'll get to enjoy panoramic skyline views, so don't forget to pack a sweater or light jacket—winds on the water may be cooler than downtown—but if you get chilly there are climate-controlled interior decks

There is a dance floor with a live DJ, so wear your dancing shoes!

Please be punctual—once the ship leaves, we are unable to return for passengers who missed the boarding time
Want to Bring a Friend on the Cruise?
Purchase a guest pass
---
Find Conference Networking Opportunities
Elevate is all about making connections with other Members. Fill out this quick form by Sunday, June 23 and we will connect you with attendee(s) that have similar interests to you. We will determine matches and provide you with suggestions for meeting opportunities throughout the conference via email by Monday, July 8.
---
Enjoy Networking Over a Casual Dinner (Optional)
Looking to join others for dinner on Sunday? Gather with fellow Elevate attendees on the evening of Sunday, July 14 for dinner and discourse in a casual setting. Pick your reservation time between 6-7pm and choose from a list of various nearby restaurants and we will set you up with an Elevate group to pass the evening.
Please note dinner is optional and is at attendees' own expense.
RSVP with your restaurant and time
---
Don't Miss the Book Signing with Dr. Marilee Bresciani Ludvik
Elevate's keynote speaker will be signing her latest publication, The Neuroscience of Learning and Development: Enhancing Creativity, Compassion, Critical Thinking, and Peace in Higher Education, at 8:00am on Tuesday, July 16. Copies will be available for purchase on site with credit card.
---
Hotel and Travel
The Elevate conference block for the Renaissance Hotel is sold out.
The hotel offers on-site, self-parking with unlimited in and out access for $36 USD daily/overnight. The parking garage does not accommodate motorcycles or oversized vehicles (height clearance 6 feet 6 inches). For additional travel information and directions, please visit the hotel's website.
---
Accessibility and Inclusivity
Campus Labs is committed to providing an environment that is inclusive, supportive, and comfortable for all attendees. At Elevate 2019, you can expect:
Accessible facilities

Electronic access to presentation decks for those using assistive devices

The use of microphones in educational sessions and keynote speeches

Presentations that have been designed with accessibility in mind

Access to gender-inclusive restroom

Gender pronoun stickers for your name badge

A commitment to inclusive language and visuals
If you have a suggestion or point of feedback for how we can do better, please let us know! We are committed to continuous improvement.
---
Frequently Asked Questions