Elevate 2019 Overview
Get ready for Elevate 2019!
Elevate is a three-day interactive conference dedicated to maximizing the benefits of your assessment and teaching and learning solutions. Hosted by Campus Labs, attendees will learn about the variety of techniques used by our Member Campuses and how they're moving towards better assessment, ePortfolio, and course evaluation solutions. Join us for the conference that will connect and engage Member Campuses for years to come!
"This year's Elevate conference builds on the excitement of Elevate 2018. We're expanding the scope beyond teaching and learning to also further your improvement and accountability efforts, which means more attendees, more sessions, and greater benefits for each of our participants. In addition, we're offering a number of pre-conference workshops, including an Analytics & Business Intelligence Institute which is perfect for cross-functional teams. This year's Elevate is also special because it will be the first to welcome the membership of our newest addition to the Campus Labs family, Chalk & Wire.
I'm very grateful to all of the members who joined us last year for their feedback and enthusiasm, and we can't wait to see you again!"
- Annemieke Rice, Vice President, Campus Success
Who is Elevate for?
Elevate is designed for the data geeks among us – assessment professionals, institutional effectiveness officers, teaching and learning enthusiasts, and leadership in both academic and student affairs looking to advance their division's use of data for continuous improvement.
If you're a Campus Labs Member using any of our assessment tools – including those for conducting course evaluations, assessing learning, documenting outcomes, and facilitating strategic planning, program review, or accreditation efforts. It's also for our newest members using the Chalk & Wire ePortfolio solution.
Bringing a colleague or team with you to Elevate will allow you to get the most of the many options you'll have to attend concurrent sessions, while also giving you time to debrief and plan for applying your learning back on campus.
Start getting hyped!
Key Dates
Opening Promo Registration opens
January 11 – 18, 2019
Call for Proposals opens
January 11, 2019
Early Bird Registration opens
January 19, 2019
Early Bird Registration closes
March 15, 2019
April 1, 2019
Call for Proposals closes
April 1, 2019
April 8, 2019
Elevate Conference
July 14 – 16, 2019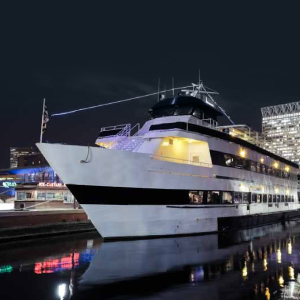 Get ready for a fun night out!
Hit the high seas and join Campus Labs and colleagues for this casual evening boat cruise as we set sail from Baltimore harbor and enjoy dinner, dancing, cocktails and conversation.
Why should you and your team attend?
Hear best practices and success stories from fellow members

Build your skills with practical product training

Connect and participate in roundtable discussions and networking events

Hear about the latest Campus Labs news and updates

Meet face-to-face with the Campus Labs teams

Engage in user research sessions led by our product and development teams

Enjoy scenic Baltimore, MD from the centrally-located Renaissance hotel

Experience a fun night out on us with your fellow data enthusiasts in Baltimore!
Let us help you make the case
You're ready to register for an exciting conference on institutional effectiveness, teaching and learning and co-curricular assessment solutions and connect with other Campus Labs Member Campuses in Baltimore, MD! So, what's holding you back? We know this is a great opportunity to learn more about maximizing use of assessment and evaluation solutions. If you need to prepare a proposal to request the budget to join us, here's a tool to make it easy for you!
We've put together a letter for you to help showcase the value of attending Elevate 2019. Please let us know what else we can do to help you get to Baltimore!
Download our justification letter
Elevate is the perfect opportunity to learn from a diverse group of users and institutions, and to share your own experiences with assessment and teaching and learning solutions.
What will you take away from Elevate 2019?
New ideas to improve teaching methods and deepen student learning

Validation of your institution's high standards

Access to current research in the areas of course evaluation, assessment and ePortfolios

Practical processes you can apply almost immediately upon returning to campus

How Campus Labs can help you reach your institutional effectiveness and teaching and learning goals

...And maybe even some new friends