ePortfolio
Unlock the Power of Teaching and Learning on Your Campus
Supporting students throughout their entire journey—from their educational career into the workplace—is the goal of every institution. Making that goal not only attainable, but efficient and accessible, is ours. With our award-winning ePortfolio toolset, you can thoughtfully capture the student journey for a richer teaching and learning experience. Much more than a showcase, the Chalk & Wire ePortfolio toolset is designed to monitor and verify student learning outcomes, using adaptive structuring and templates, robust editors, and flexible content-sharing options.
Unlimited & Customizable ePortfolios
Use proven tools and techniques to showcase and enrich the student experience.
Inspire learners as you track program goals, co-curricular activities, and related special projects

Showcase the student education journey as you display powerful evidence of skills gained and accomplishments earned

Securely export and share evidence with anyone, anywhere
---
Innovative Results Analytics
Empower your faculty and enable them to both learn more and do more.
Gain the benefits of intuitive design and plain-language custom reports

Quickly find what you need by filtering and isolating by specific student demographic, course, assessor, cohort, assessment groups and more

Eliminate double-work with our powerful LMS integrations, allowing faculty to assess and grade at the same time on one screen

Quickly recall student work samples for future reporting and research
---
Build Beyond Compliance
Easily identify techniques, processes, and workflows that succeed.
Enjoy multiple, customizable workflows to capture student progress

Detect and address the areas requiring more attention

Easily monitor initiative progress and share results with stakeholders
---
Customize Workflows Across Campus
Leverage the power of ePortfolios to enhance your student learning experiences outside the classroom.
Customize flexible tools to meet your unique program requirements

Build sustainable processes by embedding assessments, surveys, and journaling into traditional activities

Support program group autonomy with flexible administrator privileges
---
Powerful Integrations Save Time and Effort
Chalk & Wire is intentionally designed to integrate with your other solutions to enhance onboarding and ongoing campus initiatives.
Provide a unified, transparent experience for students, faculty and administrators that includes single sign-on, automatic account creation, group enrollment and more

Connect seamlessly to your LMS to push scores back to the gradebook, mitigating the grading versus assessment debate

Chalk & Wire is an approved integrated platform provider that pre-loads the system with current handbooks and tasks so your candidates can more easily prepare their responses and transfer their edTPA®️ to Pearson for official scoring. edTPA Local Evaluation is also supported.
Promotional Download
An award-winning leader in ePortfolio tools thoughtfully designed to capture the student journey for a better teaching and learning experience.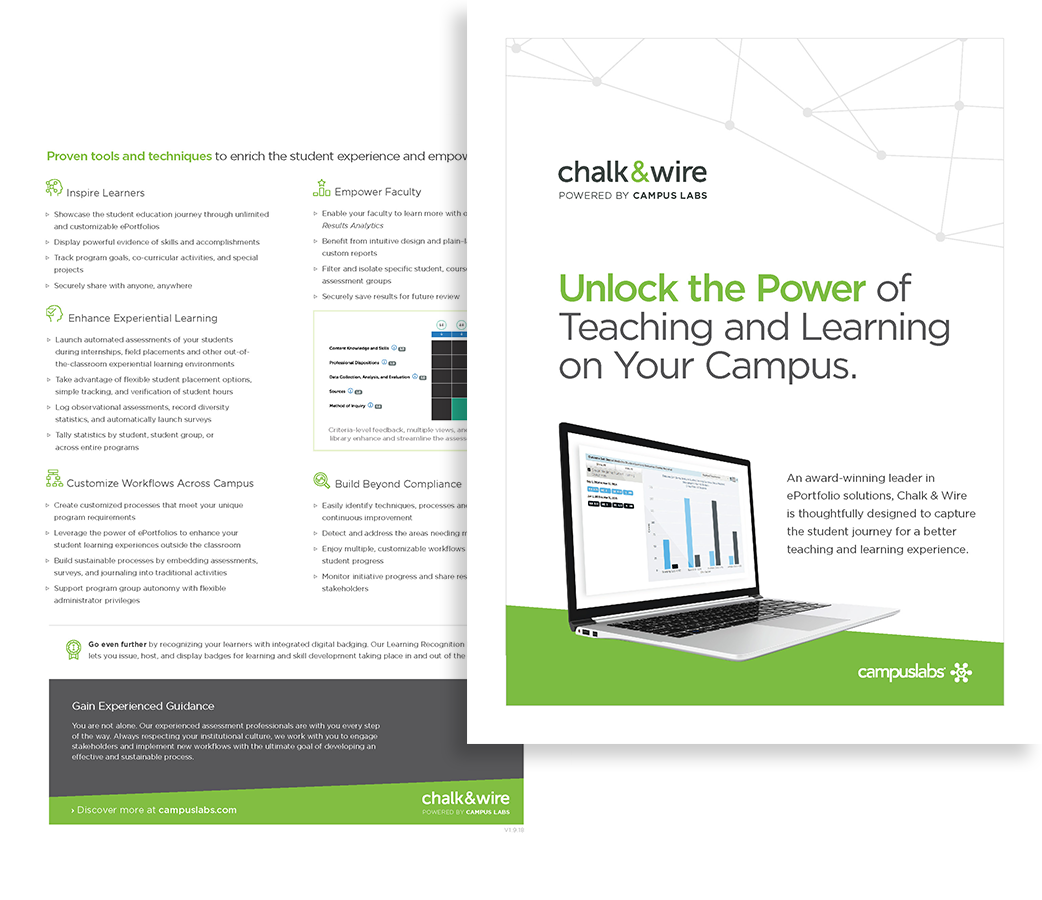 Discover more about our ePortfolio toolset
As seasoned users of the Chalk & Wire ePortfolio toolset, we appreciate the breadth, depth and overview of the ongoing improvements implemented to reflect changes in technology and the needs of users.
-Joanna Alcruz, Molloy College
Student skill development starts with real-world experience. Use best-in-class technology for streamlined management and tracking of student placements.