Elevate Your Approach to Teaching and Learning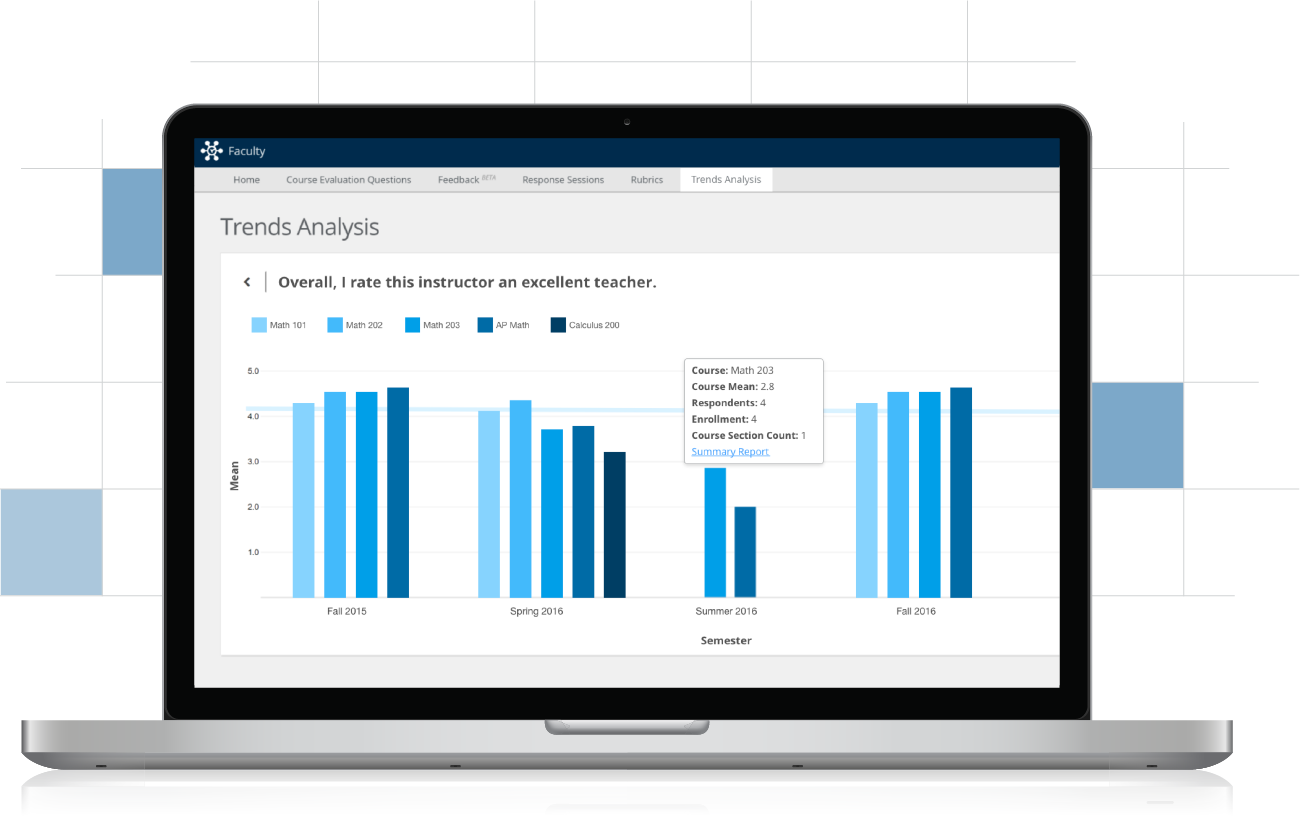 Better Teaching. 
Deeper Learning.
Faculty strive to make a difference in the academic journey of their students. But how can they be sure their teaching methods are having the right impact? With Campus Labs for Teaching & Learning, you can use powerful analytics to connect your data about student learning and quality of instruction, while unlocking insights about outcomes across all departments and divisions. You and your faculty will gain a deeper understanding of the students at your institution—and a greater ability to support them.
Teaching & Learning
Course Evaluations
Meaningful feedback can inform decisions about accreditation and faculty performance review, while supporting a culture of healthy risk-taking and academic progress. Our Course Evaluation tools are designed to emphasize formative assessment and make the process transparent, collaborative, and easy.
Learn more
Rubrics and Data Collection
Our tools include a library of rubrics for every aspect of student learning, so you can leverage nationally recognized rubrics and benchmark your data. The online centralization of collected data provides easy access for all stakeholders. Link your assessment data and connect it directly to your program review.
Learn more
Outcomes Assessment
How will you know if your courses are designed to maximize success in expected outcomes? With our tools, you can connect your rubric data, measure outcomes at each level of your institution, compare results over multiple terms, and incorporate evidence into your strategic plan.
Learn more
Program Review
Just as faculty benefit from a way to confirm their impact in the classroom, you'll want to know the impact of your programs and services. With Campus Labs for Teaching & Learning, you'll be able to track departmental progress and easily link documentation of milestones with planning and accreditation reports.
Learn more
Experiential Learning
Save your faculty hours of time by eliminating repetitive tasks. Our Experiential Learning toolset provides you with customizable templates to quickly place students in community service, student teaching, internships, or clinical experiences with automatically embedded assessments, progress tracking and reporting.
Learn more
ePortfolio
Generate valid and reliable academic assessment data with a simple click. Our ePortfolio toolset is designed to give you the ease-of-use, flexibility and adaptability to help successfully bring students from their education at your institution into their new careers in the workplace.
Learn more
Learning Analytics
Uncover insights about everything from how students perform in a class to how effectively Bloom's or another assessment taxonomy is being applied across departments and divisions. Our tools incorporate data science such as text analytics and sentiment analysis to explore students' perceptions of their own learning.
Interested in learning more about Campus Labs for Teaching & Learning?

Send us a demo request and let's talk data.