Student Affairs Assessment
Thank you for requesting a custom analysis There was an error with your form submission, please try again
Empower your division with actionable data
Showcase how your student affairs division impacts the student experience. Partner with Campus Labs to execute assessment in student affairs, improving your data fluency and reducing the burden on your staff's investment in data collection and analysis. Together we will liberate your data from isolated silos and help you own your narrative about the student experience.
Strategic Assessment & Data Collection
Our partnership with Campus Labs Baseline comes with the added benefit of access to the NASPA Consortium and Project CEO studies. Administering Project CEO has provided us with a way to learn more about the extent to which students are reporting feeling prepared to enter the workforce and where they acquired these skills on our campus. We've referred to our findings from Project CEO to inform our strategic planning work as we set priorities for 2020-2025.

Abbygail Tull Langham, Ph.D.

Director, Assessment & Strategic Planning
Auburn University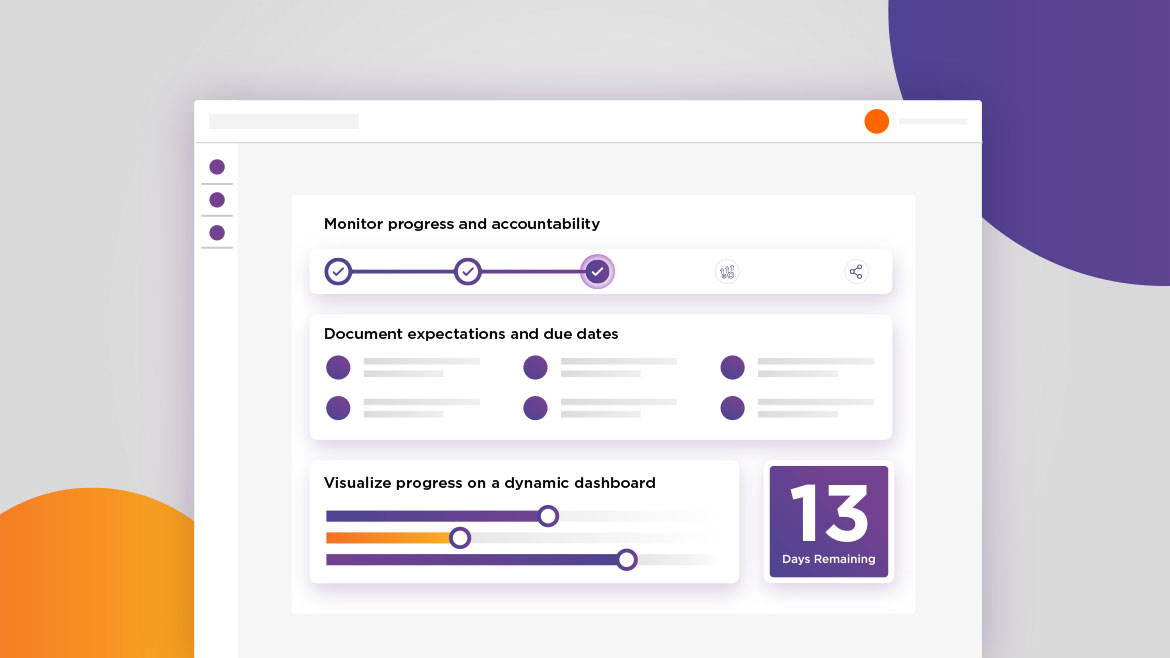 Advance from only anecdotal data to measurable insights that inform an evidence-based approach. Avoid the stress of data requests and reporting tasks by capturing all your diverse data sets in a single location. A centralized and organized hub of data helps you build the confidence to defend the value and impact of student affairs.
Gain the benefits of a united collection without losing time or misplacing data

Strategize multiple assessment methods in one place using surveys and live polls

Collect focused, actionable data through a variety of national benchmarking studies

Analyze data and link evidence to demonstrate progress on strategic goals
Assessment of Student Learning
Student learning doesn't stop at the classroom door. Assessing the skills and knowledge students gain from their holistic educational experience is more important than ever.
Benefit from deep analytics and uncover the areas of student learning where your division is having the biggest impact

Implement an intentional learning outcomes framework with an instantly generated, co-curriculum map

Get your entire division using direct assessment strategies with pre-developed or customized rubric instruments

Provide immediate formative feedback by sharing rubric results and comments directly with students
Undertaking learning assessment for the first time?
Demonstrate how co-curricular experiences contribute to divisional and institutional learning objectives with an out-of-the-box approach that instantly visualizes student achievement at every level.
Already documenting student learning outcomes in your departments and programs?
Take your reporting to the next level with robust, streamlined documentation and intuitive visualizations to make your contributions shine.
Integrations, Analytics and Visualizations
Insight allows us to visualize our existing engagement data and do a number of things, including modify how we are using naming conventions in Engage, identify data quality improvements and align multiple departments to maximize engagement. Additionally, we've been able to expose more data points to help us answer many common Student Affairs questions with a fresh perspective.

Ciji Ann Heiser

Director of Assessment & Effectiveness
Western Michigan University
Start busting myths at your institution by combining multiple data sets to answer cross-functional questions. Campus Labs® Insight can help bring you into the future of student affairs with shared access to integrated data—no data analytics degree required! You'll quickly learn how to visualize operational effectiveness, monitor KPIs and interact with dashboards to unlock a clearer understanding of the student experience.
Link campus-wide data and access meaningful insights from one central location

Contextualize visual assessment data to be used at every level of your division

Create and share dashboards to monitor the information most interesting to you

Call out patterns and trends so everyone can focus on the initiatives most likely to influence your goals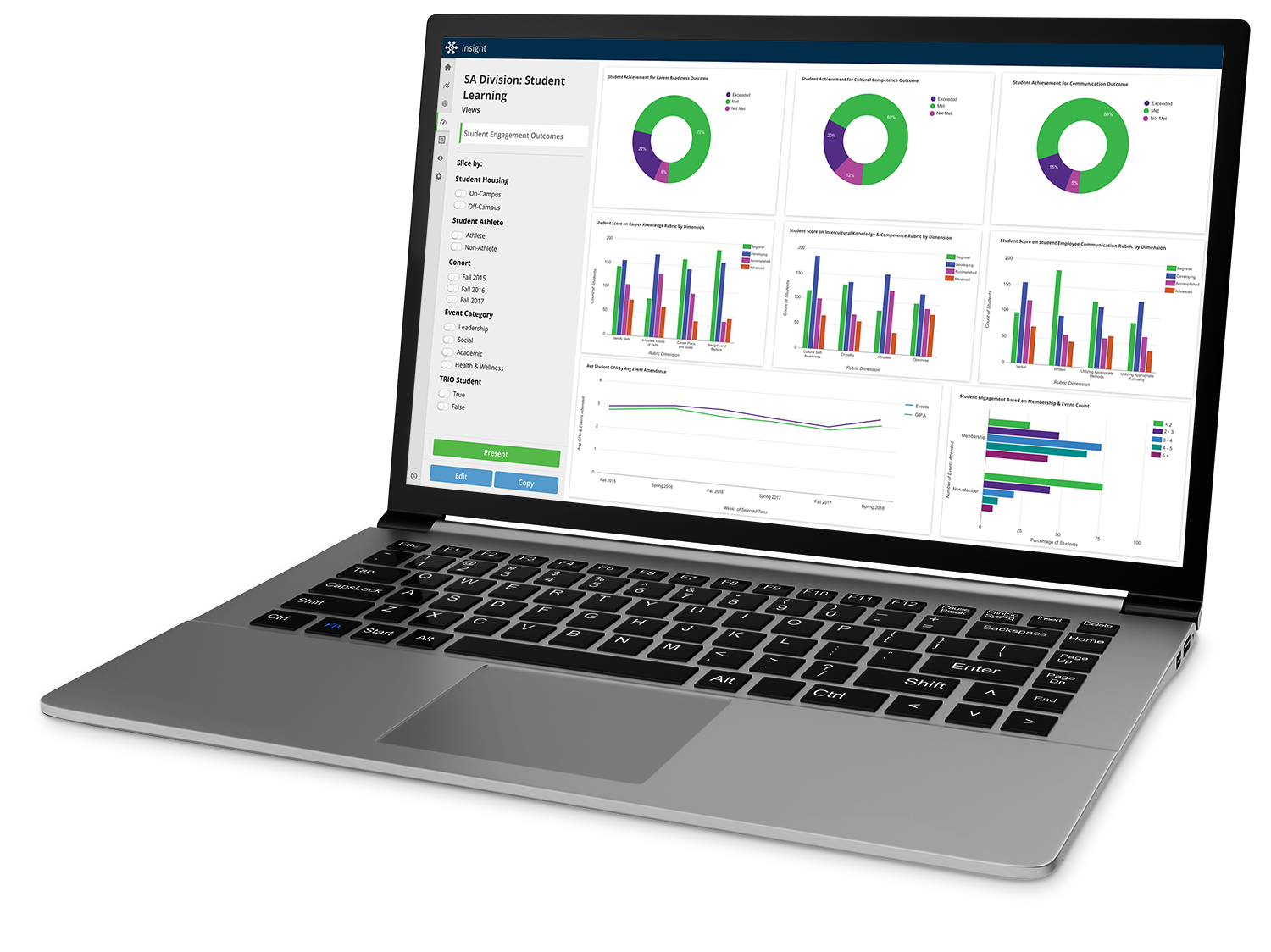 Cyclical Program Review
CAS provides sets of functional standards and cross-functional frameworks as well as a process for self-study and program review. In addition, CAS provides additional resources to support this process. As a Campus Labs user, these tools are at your disposal.

Dan Bureau, Ph.D.,

President, Council for the Advancement of Standards in Higher Education
Be proud to stake your reputation on the hard work your division does with in-depth self-studies for program review. Develop a comprehensive, collaborative strategy to cyclical review, incorporating a thorough and evidence-based approach to continuous improvement. Shine the spotlight on your programming strengths and uncover the information you need to make data-informed decisions.
Access over 40 self-assessment guides for different functional areas and campus initiatives from the Council for the Advancement of Standards in Higher Education (CAS)

Leverage granular permissions and a dashboard view to assign responsibility and track progress

Reflect on your programs and practices to foster and enhance student learning, development and achievement with robust narrative writing capabilities

Demonstrate your achievement with evidence organized in a structured document directory, and grow a centralized database of all divisional review activity over time
Campuses Using Campus Labs for Student Affairs Assessment






---
Take the next step in your assessment journey and complete an analysis of your current practices. You'll receive your results and tailored recommendations to address your most immediate assessment needs.
This website uses cookies to enhance your experience on our site. To learn more about our cookie and privacy policy, please click here.
Accept