Optimize Your View
of the Big Picture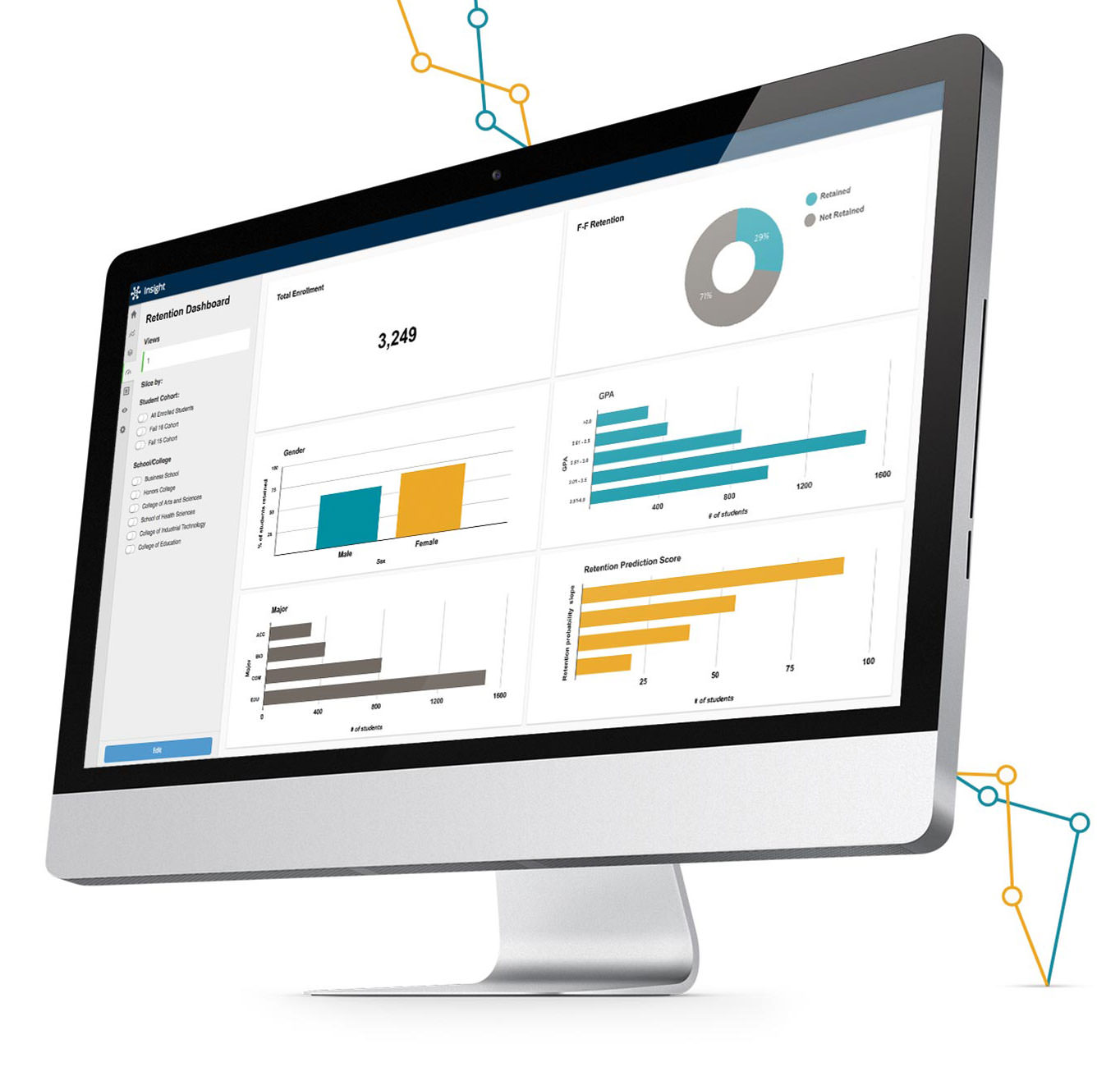 Visualize. Understand.
Advance.
Bring your data together so you can ask – and answer – the most pressing questions facing your institution. With powerful analytics, you'll be able to make more informed decisions, evolve your practices, and transform the student experience.
Analytics & Insight
Reporting and Dashboards
Dynamic data visualizations highlight previously hidden patterns so you can easily understand outcomes and trends across departments, divisions, and your entire campus. Build custom reports and then share your information with other stakeholders in a matter of minutes—not months. Use dashboard narratives to monitor and access the information you need, when you need it most.
Learn more
Predictive Analytics
Timely predictions, customized to the unique needs of your campus, will take the guesswork out of student success. Identify which students are at risk and which factors are having the greatest impact on their ability to succeed. Then match each student with the right resources and level of support. With our predictive models, you can leverage your campus data for a more precise student success strategy.
Learn more
Academic Economics
View student level information through the programmatic and institutional level lenses and discover the connections between student body demographics, course success, cost allocations and academic results. Using both operational and analytical reporting, gain a deeper understanding of the academic costs from every level and identify trends.
Learn more
Learning Analytics
Go beyond templated assessment and gain meaningful insights for powerful change. Translate course feedback into actionable steps to improve learning and encourage effective teaching. Use curriculum taxonomy visualizations to identify gaps in learning progression and better support academic progress.
Data Science
Our data science team brings greater life to your data so you can glean better insights. From course evaluation text analysis to outcomes assessment to predictive models, we surface data that's at the core of your mission: student learning and success.