2019 Campus Labs Awards Competition Honors Eight Member Campuses and Two Individuals
November 11, 2019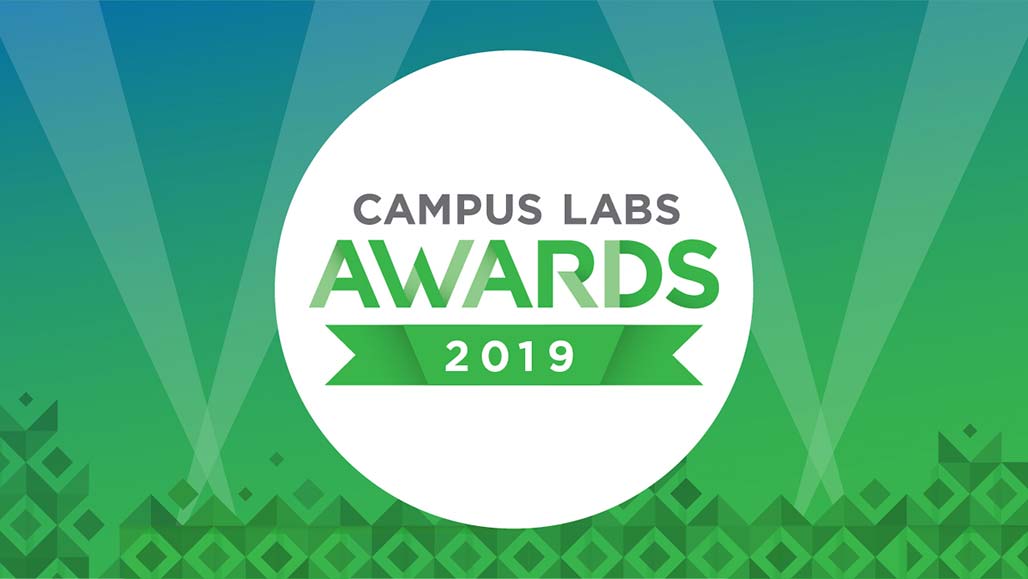 ---
Buffalo, NY – During a week-long series of live Twitter reveals beginning the week of November 4, Campus Labs announced the winners of the 2019 Campus Labs Awards. Wrapping up its third season this year, the annual competition celebrates exemplary member campuses and individuals for excelling and innovating in their respective fields in higher education.
The 2019 awards season saw 25 finalists vie for the top spots across the Rising Star, Trailblazer, Collaborator, All Star and Champion categories, with eight campuses and two individuals receiving first and second place honors in total. Award winners are chosen from both campus-submitted and company-nominated applications, shining the spotlight on everything from successful tool adoption and cross-campus collaboration to sustained success and innovation with Campus Labs tools.
In recognition of their achievements, winners were awarded more than $10,000 in educational grants and prizes in total, including complimentary passes to the annual Campus Labs user conferences Connect and Elevate, as well as funds to further advance the successful adoption and impact of Campus Labs tools on their campuses.
"After three years doing this awards program, we're still excited and surprised by the great ways our member campuses are taking their work to the next level," said Nicole Melander, vice president of strategic initiatives. "The effort and dedication from every nominee proves that their work not only benefits the students and faculty at their own institution, but helps raise the bar for the work being done in higher education as a whole. We are proud to have such fantastic member campuses."
Cornerstone University took home the first-place prize in the Rising Star category, awarded to campuses that have shown they're on a unique and promising path to sustainable success within one year of implementing their Campus Labs tools. Cornerstone University proved that thanks to their clear, goal-orientated approach to simultaneously launch multiple Campus Labs tools, collaborate across institutional units and build a culture of assessment on campus.
For the longer-tenured member campuses, University of Kentucky was the first-place winner in the All Star category, awarded to campuses that have demonstrated sustained effort and successful adoption of Campus Labs tools at their institution over time. University of Kentucky won for using Campus Labs® Engage as a database that tracks students' sense of belonging on campus.
Visit the 2019 Campus Labs Awards page to discover all the finalists and other 2019 award winners.
A warm congratulations goes out to all the winners and a sincere thank you to every campus who participated in this year's awards competition. The dedication to campus success and higher education is a continued inspiration.
About the Awards Program
The annual competition recognizes standout achievements by member campuses using the Campus Labs solutions. The purpose is to showcase institutions whose work illustrates the impact of data-empowered innovation.