2018 Campus Labs Awards Competition Honors 17 Member Campuses and Four Individuals
December 10, 2018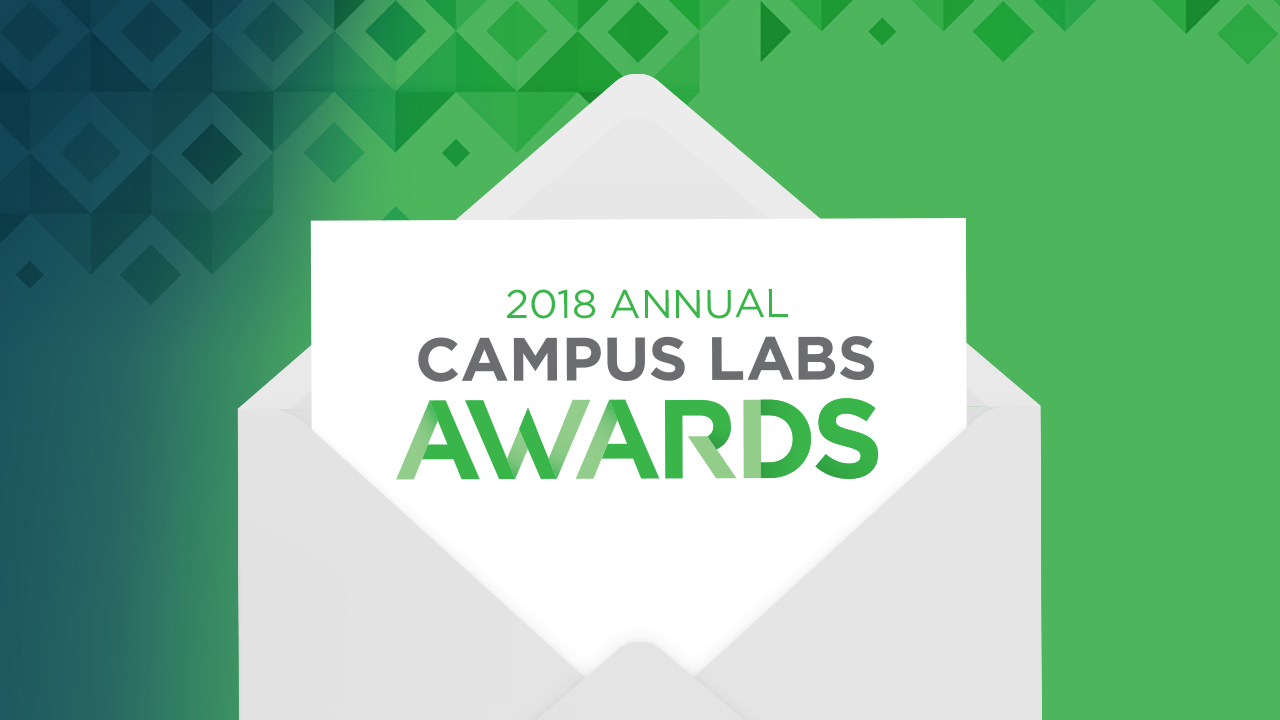 ---
Buffalo, NY – During a live webinar on Friday, December 7, 2018, Annemieke Rice, Vice President of Campus Success and members of the Campus Success team announced the winners of the 2018 Campus Labs Awards. This is the second year of the annual competition celebrating the exceptional achievements of Member Campuses. This year, six Member Campuses earned All Star distinction, five received Rising Star honors, four campuses earned the title of Trailblazer and two campuses, Western Michigan University and William Paterson University, received Collaborator honors. Four individuals, nominated by Campus Labs staff, received the Champion award recognizing their dedication to making a significant impact on their campus and beyond.
In recognition of their achievements, winners were awarded more than $10,000 in educational grants and prizes, including funds to further advance the successful adoption and impact of Campus Labs tools on their campuses.
"This Awards program allows us to recognize our Members for not just the efforts they make, but also the impact they have demonstrated," said Annemieke. "Their focus, creativity, and commitment to excellence have improved the quality of education for students, enhanced the effectiveness of resource utilization, and helped bring together faculty and staff across campus to make meaningful and sustainable change. It is incredibly rewarding to me and the entire Campus Labs team to see these campuses recognized for their work."
SUNY Oswego, one of the All Star winners, was chosen for investing in the assessment competency of their student affairs staff and seeing the returns in positive feedback from their accreditor. A Member Campus since 2007, SUNY Oswego aligned and advanced their assessment efforts to build a culture of evidence in the Division of Student Affairs and adopted their assessment tools at an advanced level. According to SUNY Oswego's award-winning application, "If you aspire to create a culture of assessment, be patient. Acknowledge the challenges associated with incorporating assessment into our busy work lives, create a community of practice where professionals can learn and grow together, offer encouragement and support."
Texas A&M International University (TAMIU) College of Education was recognized with a Trailblazer award for using data to inform every step of the student experience – from admission to graduation to teacher certification. TAMIU stood out from other campus submissions through their holistic approach to retention and student success. Using student success tools, TAMIU has been able to identify valuable milestones impacting the student journey. Armed with these milestones, they've been able to use predictive analytics to target and time interventions for individual students.
A recipient of the Collaborator award, William Paterson University, a Member Campus since 2008, was chosen for making civic engagement a priority and using data to back up their efforts. As a focus in their strategic plan, the university embarked on a journey to integrate civic engagement in curricular and co-curricular activities. Through a multifaceted and comprehensive lens, William Paterson documented and continued to share efforts for their strategic plan through assessment tools while driving these efforts with student engagement tools. Thanks to this focus, during the 2017-2018 academic year, over 3,097 William Paterson students participated in extra-curricular civic engagement activities and events contributing more than 10,600 service hours.
This year the Chalk & Wire membership were also invited to participate in the awards competition. Mercyhurst University was honored with a Trailblazer award for using an ePortfolio solution in creating new student learning outcomes grounded in the actual institutional mission, targeted to skills that can be assessed, and devised for quantified data that could be compared and evaluated over time.  
 
Regina Wragg, Ph.D., from the University of South Carolina, was a recipient of one of the Champion awards for being instrumental in implementing an ePortfolio solution throughout South Carolina's College of Education. The University of South Carolina produces more teachers for the state than any other institution and works proactively to combat the serious teacher shortage plaguing South Carolina. Regina's work in assessment and accreditation contributes to the high quality and continued growth of the educator preparation program at the University of South Carolina.
We congratulate all our winners, and sincerely thank all the campuses who participated in this year's awards competition. Your dedication to your campus success is an inspiration to us.
About the Awards Program
Open to all Campus Labs Member Campuses, the annual competition recognizes standout achievements using the Campus Labs tools. The purpose is to showcase institutions whose work with our tools illustrates the impact of data-driven innovation—everything from streamlining administrative processes to enhancing the overall student experience.