The Inaugural Campus Labs Awards Competition Honors 15 Member Campuses and 5 Individuals
December 13, 2017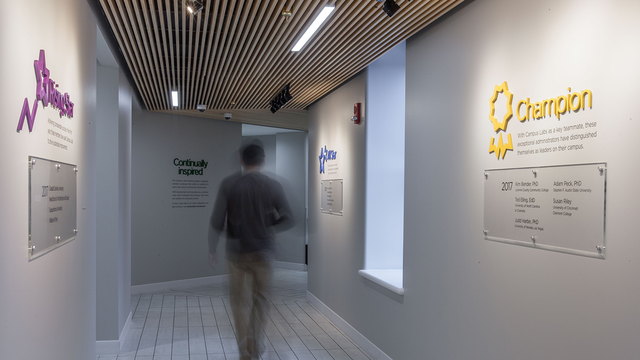 ---
Buffalo, NY, December, 13 2017 – In a live webinar on Friday, December 1, Annemieke Rice, Vice President of Campus Success, and Kate Griffin, Associate Vice President of Campus Success, announced the winners of the 2017 Campus Labs Awards. Five Member Campuses have earned our All Star distinction, four have been named Rising Stars, five have received a Trailblazer distinction, and McGill University has been named our 2017 Collaborator. For their vision and leadership, five individuals have earned our Champion award. In addition, more than $10,000 in educational grants and prizes have been awarded to this year's winners.
"All of us at Campus Labs are honored to celebrate these achievements, and we look forward to sharing these stories in greater detail throughout 2018," said Annemieke. "We are inspired by the ways in which our Member Campuses use our platform to drive progress and innovation."
As one of five All Star winners, Champlain College was recognized for achieving outstanding results and sustainable success using the Campus Labs tools for course evaluations at an advanced level. More than two and a half years ago, the college had established several goals for implementation: to make it simpler for faculty to administer the IDEA student ratings of instruction; to make it easier for students to access surveys with their mobile phones; to give administrators greater access to "drillable" data; and most importantly, to give faculty more direct ownership of their student ratings results. All of these goals were fulfilled, and Champlain is now focused on faculty development and further improving quality of instruction.
Auburn University, another All Star designee, was recognized for creating a sustainable culture of student affairs assessment and planning. The initial goals of streamlining assessment efforts and centralizing repositories for reports and data collection evolved into broader initiatives. These included building staff assessment capacity, closing the assessment loop, and measuring progress toward establishing a culture of evidence within the student affairs division. The value of the integrated Campus Labs platform has allowed Auburn to streamline assessment efforts and offer departments a centralized location and historical record of their collected data.
We congratulate all of our winners, and thank everyone who participated in this year's awards competition. Your achievements are the inspiration for our continual innovation!
Read the complete list of this year's winners.
About the Awards Program
Open to all Campus Labs Member Campuses, this annual competition recognizes standout achievements using the Campus Labs tools. The purpose is to showcase institutions whose work with our tools illustrates the impact of data-driven innovation—everything from streamlining administrative processes to enhancing the overall student experience.